Alternative Lending in Canada 2018 – Insights for Lenders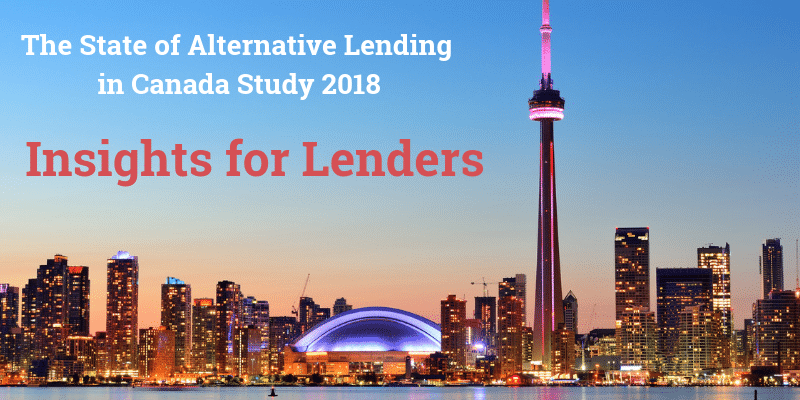 Interest in alternative lending products is growing steadily in Canada, and as more consumers explore available options they are generally finding the information, products and level of service they are looking for, according to the State of Alternative Lending in Canada 2018 study published by Smarter Loans.
The survey of 1,160 users found that more Canadians are turning to online providers as a viable alternative to traditional financial institutions each year, yet the industry will have to address a range of concerns in order to improve its perception in the marketplace.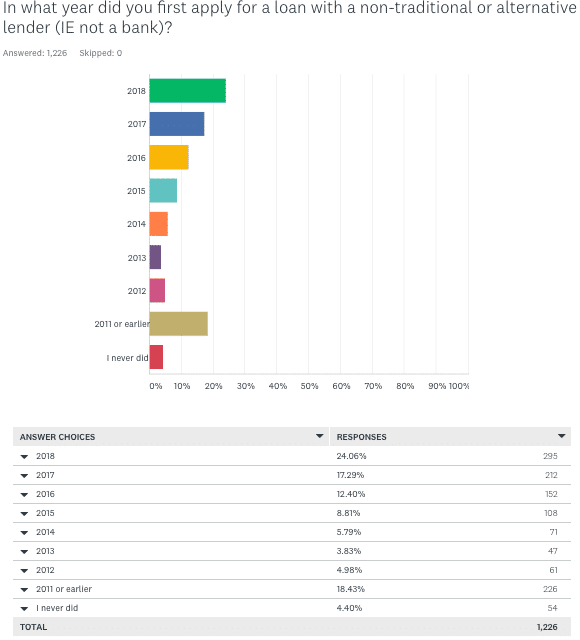 When study participants were asked about the loan products they've pursued in the past 12 months, 71% confirmed that they did not seek a loan with a traditional financial institution, such as a bank, first. At the same time interest in alternative loans have been trending upwards since 2013, with 24% of respondents indicating that they sought their first loan with an alternative lender in 2018. Overall, nearly 54% of respondents submitted their first application with a non-traditional lender within the past three years.   
The most popular loan type, according to those surveyed, are personal installment cash loans, which 67% of respondents had applied for in the previous 12 months. The second most popular were payday loans, which had been pursued by 61% of respondents in the past year, followed by auto loans, which were pursued by 18%. Only about 3% of respondents pursued a business loan, less than 3% applied for a mortgage, less than 2% applied for home equity loans, and only about 2% applied for truck and trailer financing or other equipment financing.
How Canadians discover and consider prospective lenders
According to the research, the first step of the customer journey is an online search, where 62% of respondents discovered the provider they ultimately applied with. Another 13% found their provider on social media, and 10.5% discovered the company they sent their application to through a personal recommendation. Traditional media—including TV, radio and newspaper advertisements—accounted for only 3.2% of new lender discoveries.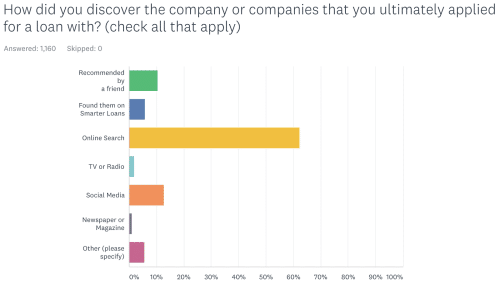 After identifying potential providers, users typically conducted their own research to help narrow down their options. Roughly 46% of respondents researched between three and five potential providers, and another 26% researched six or more. Only 27% limited their research to just one or two providers.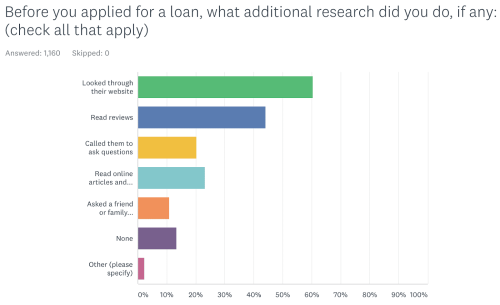 The most popular form of verification was the lender's website, where 60% went to evaluate a potential provider. Another 44% of respondents read reviews, 23% read online articles and 20% picked up the phone and asked the lender questions directly before making a decision.
Overall, 55% of Canadian spent between one and 5 hours conducting research and another 15% spent more than 6, with the remaining 30% spending less than an hour narrowing down their options.
Nearly 69% of those seeking truck and trailer financing or payday loans spent two hours or less conducting research before applying, as did 63% of those seeking a personal installment loan. Those seeking a home equity loan were most likely to spend 10 hours or more doing research before applying (20%), followed by business loans and mortgage seekers (18%).
Those aged 18 to 24 also did the most research, with 42% researching 10 or more options, more than twice and in some cases more than three times the proportion of other age brackets. Those in Manitoba were also most likely to spend 10 or more hours doing research (20%) following by Nova Scotians and Quebecers (18%).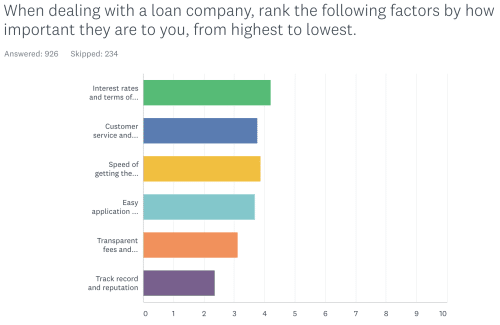 The most important factor for consumers when dealing with a lender is interest rates and terms, followed by customer service and speed of receiving the loan, though priorities differed depending on the loan product.
Home equity loan seekers, for example, were more interested in interest rates and terms than those seeking other loan types, while customer service and support was of highest priority to those seeking a business loan. Home equity, mortgage and auto loan recipients were the most concerned with the speed of receiving the loan, and customers of truck and trailer loan products were more concerned with the ease of the application process than other loan seekers.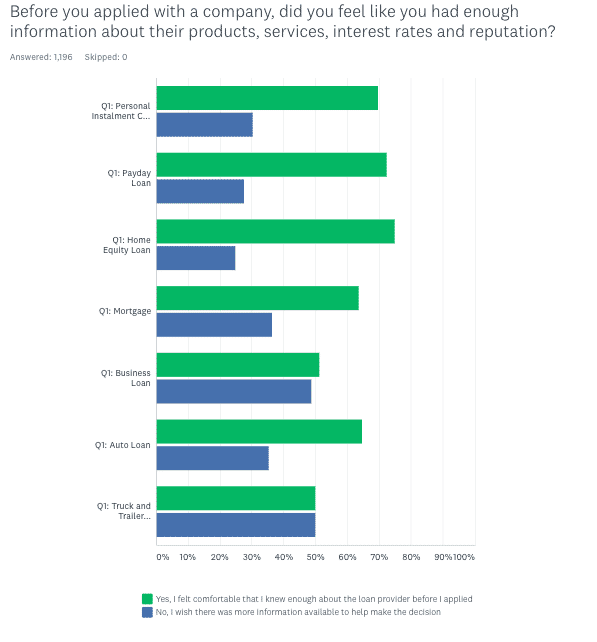 Nearly half of those seeking business loans and half of those seeking truck and trailer financing felt there wasn't enough information available to help them make an informed decision. On the other hand three quarters of home equity loan seekers and about 70% of payday loan and personal installment loan seekers felt comfortable with the provider before applying.
Overall, 70.5% of respondents felt that had enough information to make an informed decision with regards to their application.
How Canadians feel about the application process
After conducting research 45% of respondents ultimately decided to apply with just one company, while 55% submitted applications with multiple lenders.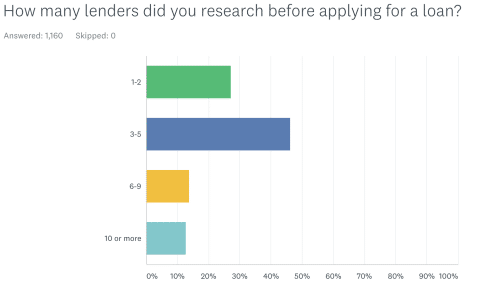 The oldest and youngest age brackets—those between 18 and 24 as well as those aged 65 and over—were most likely to apply with multiple lenders. Furthermore, the a majority of respondents in Nova Scotia, Saskatchewan, and the Northwest Territories applied with just one company, while the majority of respondents in every other province applied with multiple.
Payday loan seekers were most likely to be satisfied with the application process, with 64% confirming that they felt it was fast and easy to follow. Furthermore, 60% of personal installment cash loan applicants, 56% of truck and trailer financing seekers, 54% of mortgage seekers and 53% of auto loan seekers were satisfied with the process. Those seeking a business loan or home equity loan, on the other hand, were more likely than not feel frustrated and confused with the process.
Overall, 61.7% of those surveyed indicated that the current online application process is fast and easy. Of the 32.5% that found it to be confusing and tedious, most of the frustration they expressed in comments was in relation to getting declined or poor customer service.
Lenders are providing speedy service upon approval
Roughly three quarters of applicants were eventually approved for the loan they were seeking, though 14% of respondents had to apply with multiple providers before getting approved.
Home equity loan seekers suffered the highest rejection rate at roughly 40%, followed by business loan seekers (36%) and mortgage seekers (30%). Those seeking a mortgage were most likely to only receive approval after multiple attempts, which were the case for 21%, followed by 19% of auto loan and truck and trailer financing seekers.
Payday loan seekers were most likely to say the process for getting approved was smooth and easy, a sentiment shared by 34% of applicants, followed by 30% of personal installment cash loan seekers and a quarter of auto loan seekers.
Once approved, 42.7% of applicants received the loan the same day, and a total of 82% of applicants received their loan within three days of applying.
Payday Loans were most likely to be available same day, with half receiving funds the day they applied, compared with 39% of personal installment loan seekers, 36% of truck and trailer financing seekers and 28% of auto loan seekers. About one third of home equity loans took more than two weeks to process, as well as about 30% of mortgage applications. About 20% of those seeking truck and trailer or other equipment financing also had to wait for more than two weeks for approval. Home equity loans and business loans were the only loan types that were more likely to require more than three days to process than not.
Canadians were most likely to receive funds the day they submit their application in Quebec, where 55.5% got same-day funding, followed by half of respondents in Manitoba and 48% in both Saskatchewan and Ontario. On the flip side, you're most likely to have to wait for more than a month if you're based in New Brunswick, where 7.7% waited more than 30 days to receive funds, followed by 7.7% of those in Manitoba and 6% of customers in Newfoundland.
The research also suggests that the older you are, the less likely you are to get same-day approval. Of those aged 18 to 24, two-thirds were approved the same day, compared with about half of respondents aged 25 to 34, about 41% of those 35 to 55 and 36% of those 55 and over.
Overall satisfaction and ongoing concerns with alternative lenders
While three quarters of Canadians were ultimately able to get the loan product they were seeking from an alternative lender they still gave the industry moderate approval ratings, suggesting a number of areas that still need improvement.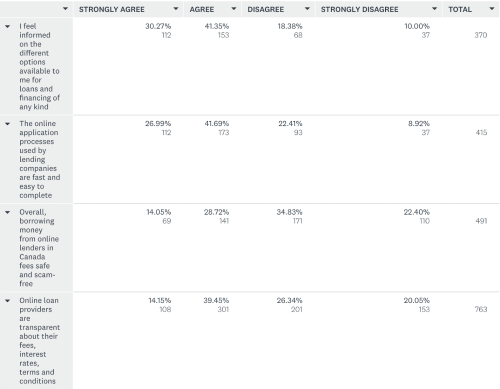 For example, 57% of respondents felt that borrowing money from online lenders in Canada doesn't feel safe and scam free, and 46% felt that lenders aren't transparent enough about their terms and fees.  
Home equity loan products were the only product types to have absolutely no "very satisfied" customers, according to the survey. While 58% of customers were satisfied enough with the service they received the remaining 42% would not return or recommend the provider in the future. On the other hand, more than one third of personal installment cash loan and payday loan seekers gave their providers top market, and only 14% of their customers would refuse to work with or recommend their provider in the future, compared with an industry average of 35%.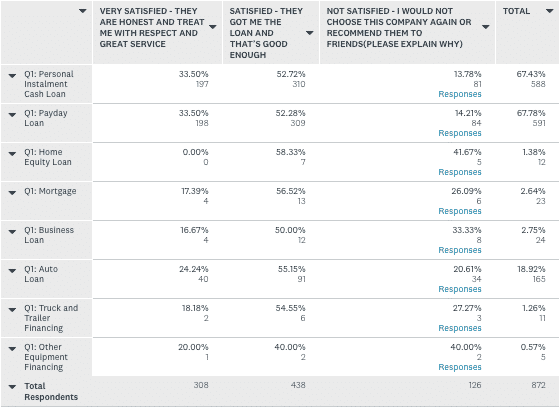 When asked about the likelihood of returning to a traditional financial institution after dealing with an alternative lender, only 19% of respondents felt the days of borrowing from banks were behind them. Another 43% were confident they would return to a traditional financial institution, while 38% remained unsure.
Interest in dealing with a traditional financial institution in the future was highest among those seeking an auto loan or truck and trailer financing, 56% wanted their next loan to come from a bank. Payday loan recipients, on the other hand, are least likely to go back to traditional financial institutions, which is being considered by only 20%.
Payday loan seekers also rated the industry highest, giving it 3.25 stars out of a possible 5, while truck and trailer financing seekers gave the lowest scores, averaging 2.64 out of 5. The overall average rating for all loan types was 3.2,  a passing grade that still leaves much room for improvement. When asked to provide one piece of advice to Canada's top lending companies for improving their services, the top five responses were:
Approve more people with bad credit or no credit

Be more flexible with income types (such as disability and child tax)

Focus more on income than credit scores when deciding whom to approve

Provide better customer service tools

Provide more information about the loan terms and criteria to be approved
Related Research by Smarter Loans: