Business Platinum Card® from American Express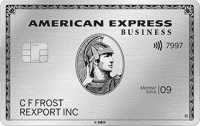 Apply Now
Great reasons to get this card for your everyday purchases
Earn 40,000 Welcome Bonus points
You can maximize your cash flow with up to 55 interest free days. Use the Card throughout the month for all of your everyday business expenses, and earn reward points while you're at it.
Gain access to paperless Expense Management Reports delivered quarterly and annually.
Annual Fee: $499 which may be tax deductible.
Additional Card: $199 annually for Business Platinum Cards®; $50 annually for Business Gold Cards®
Purchase Rate:
Cash Advance Rate:
Card Details
Eligibility Requirements: 
You are a Canadian resident and have a Canadian credit file.
You are the age of majority in the province or territory where you live.
Key Benefits:
WELCOME BONUS: Earn a Welcome Bonus of 40,000 points when you charge $5,000 in purchases to your Card in your first three months of Card membership.
EARN POINTS: Earn 1.25 Membership Rewards points for virtually every $1 in purchases and get the most out of your business expenses.
MAXIMIZE CASH FLOW: With up to 55 interest free days, you can maximize your cash flow. Plus, take advantage of purchasing power that grows with your business.
EXTENSIVE GLOBAL AIRPORT LOUNGE ACCESS: When travel calls, we answer. The American Express Global Lounge CollectionTM unlocks access to more than 1,200 airport lounges across 130 countries and counting.
Rewards
Earn 1.25 Membership Rewards points for virtually every $1 in purchases charged to your Card. Earn at the same rate for virtually every dollar in purchases charged to Supplementary Cards added to your account.
All points accumulate in your account so you can get the rewards you want faster. There is no limit to the number of points you can earn and your points never expire.
As the Basic Cardmember, refer a friend or family member who is a business owner and you could earn a referral bonus of 25,000 bonus Membership Rewards® points for each approved referral up to a maximum annual referral bonus of 225,000 Membership Rewards points.
Additional Features
As a Charge Card, the balance must always be paid in full each month. 30% annual interest rate applies to balances not paid in full. Payments must be received and processed by the date of the next monthly statement to avoid interest charges.
*American Express is not responsible for maintaining or monitoring the accuracy of information on this website. For full details and current product information click the Apply now link. Conditions apply