BMO® Preferred Rate MasterCard®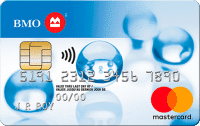 Apply Now
Great reasons to get this card for your everyday purchases
Get a 3.99% introductory interest rate on Balance Transfers for 9 months*,1% fee applies to balance amounts transferred*

Enjoy our lowest interest rate of 12.9% on purchases and cash advances*

Worldwide acceptance at over 30 million locations*

Additional Features Available
Annual Fee: $20
Additional Card:
Purchase Rate: 12.99%
Cash Advance Rate: 12.99%
Card Details
Welcome Offer: Get a 3.99% introductory interest rate on Balance Transfers for 9 months*,1% fee applies to balance amounts transferred*

Enjoy our lowest interest rate of 12.9% on purchases and cash advances*

Free extended warranty and purchase protection*

Grace Period: 21 days
Minimum Personal Income Required: $15,000
Credit Required: Good
We're making some changes to interest rates.

 

Read

 

more information: https://www.bmo.com/main/personal/credit-cards/preferred/single
Additional Features
Zero Dollar Liability: protects you from unauthorized use of your credit card*

Worldwide acceptance at over 30 million locations*
BMO is not responsible for maintaining the content on this site. Please click on the Apply now link for the most up to date information. 
*Terms and conditions apply