Top 8 Pickup Truck Brands in Canada 2020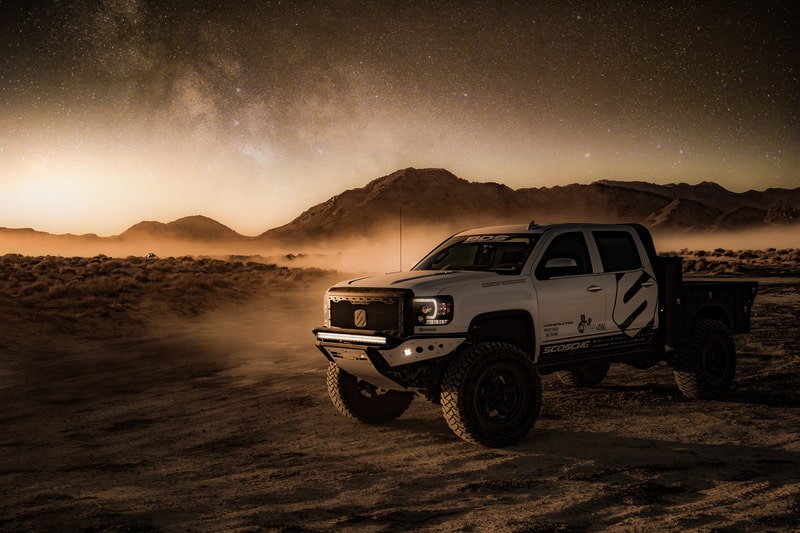 Choosing a pickup truck, for most people, isn't as easy as driving to the nearest car lot and pointing at one that just happens to be the right colour. Pickups are some of the most versatile tools, whether the driver is hauling cargo, helping a friend move or bringing home a new piece of furniture.
Here is a quick list of the top pickup truck brands in Canada for 2020 and what makes them stand out from the rest.
Dodge Ram
For drivers looking for a heavy, versatile truck, there's nothing better than the Dodge Ram 1500. The interior might not have all the bells and whistles, but it's designed to be user-friendly, so even the least tech-savvy drivers won't be confused by all the options. It rides smooth, and its suspension is top-of-the-line.
The Dodge Ram 1500 comes in five flavours: Tradesman ($47,898), Big Horn ($53,661), Laramie ($58,881), Rebel ($64,807) and Limited ($77,751). Each one has different available options depending on the driver's towing and hauling needs.
Ford F-Series
A list of the best pickups in Canada wouldn't be complete without the Ford F-Series. Drivers have six different engines to choose from. The F-150 doesn't sacrifice luxury for function, whether buyers choose regular or extended cabs or any of the other available options. The F-150 has plenty of towing and hauling power, and while it might not get the best gas mileage, it's still going to move from point A to Point B without too much trouble.
Drivers have six different options to choose from when it comes to F-150 models: XL ($42,452), XLT ($50,938), Lariat ($62,211), King Ranch ($76,658), Platinum ($80,227) and Limited ($97,461). Most of these can be upgraded to an Ecoboost V-6 engine or a Power Stroke Diesel for an additional fee.
Ford is also ranked as one of the best places to work for those interested in automotive careers, making it a brand many are happy to support.
Chevrolet Silverado
The Chevrolet Silverado 1500 has been a mainstay for pickup lovers for years and is easily one of the most recognizable trucks in its class. The half-ton 1500 model offers all sorts of powertrain choices and some serious towing capacity while keeping the driver and passengers comfortable.
Drivers have six Silverado models to choose from, including the budget-friendly Work Truck ($42,177), Custom ($51,065), LT ($54,310), RST ($40, 395), LTZ ($62,916) and High Country ($77,025) models.
Chevrolet Colorado
For drivers that might not need the biggest pickup on the lot but still want something with decent towing and hauling capacity, look no further than the 2020 Chevy Colorado. This midsized pickup is just as comfortable on the jobsite or on the highway as it is climbing rocks on the trail. Drivers have the option of four- or six-cylinder gasoline engines or a diesel drivetrain that offers extra power and torque for towing. The diesel powertrain can haul 7,700 pounds, making it the best in its class.
Shoppers have five model options to choose from: Base ($31,595), Work Truck ($36,533), LT ($40,625), Z71 ($49,372) and ZR2 ($62,211). Drivers looking for something to take off-road would be best suited to the ZR2.
GMC Sierra
The 2020 GMC Sierra has some fantastic exclusives that might tempt even the most die-hard Chevy fans. Shoppers can choose between a turbo four-cylinder engine, an inline-six or two different V-8 engines, as well as an optional off-road package that might have drivers spending more time on the trail than on the highway.
There are six Sierra models for shoppers to choose from, including the Base ($44,011), SLE ($55,580), Elevation ($59,107), SLT ($64,750), AT4 ($74,203) and Denali ($79,423).
Toyota Tundra
Drivers can purchase an extended cab on nearly any pickup truck, but there isn't a lot of legroom in the backseat. The Tundra is the exception. In addition to all the creature comforts, there are plenty of options for those who want a useful, versatile pickup truck. The 2020 Tundra dropped the standard 4.6-litre V-8 engine in favour of a 5.7-litre V-8, and it no longer offers a flex-fuel option.
Drivers have six Tundra models to choose from: SR ($49,407), SR5 ($51,764), Limited ($61,675), TRD Pro ($70,683), Platinum ($70,852) and 1794 Edition ($70,852).
Toyota Tacoma
Given Toyota's consistently high reliability ratings, it's no surprise that another model has made its way to this list. Drivers looking for a dedicated off-road pickup truck need look no further than the 2020 Toyota Tacoma. The passenger cabin is a little cramped, but what the Tacoma lacks in legroom it makes up for in handling.
Toyota has also updated the Tacoma with 360-degree cameras, which can be perfect for people who enjoy spending some time on the trail but don't want to smash into trees or scratch their bumpers.
There are six Tacoma models currently available: SR ($38,332), SR5 ($40,837), TRD Sport ($47,778), TRD Off-Road ($49,549), Limited ($56,307) and TRD Pro ($63,601).
Nissan Frontier
The Nissan Frontier might not be the fanciest pickup on this list, but it's earned its place nonetheless. That said, it's important to note that until 2020, the Frontier hadn't changed since 2005. This year, it got a peppy new V-6 engine that replaces both the previous four- and six-cylinder options.
There are three model options for the 2020 Nissan Frontier: S ($28,922), SV ($35,271) and Pro-4X ($48,674).
Pickup Truck Brands in Canada 2020
Whether someone is looking for a truck with towing and hauling capacity, off-road capabilities or simply something to drive to the grocery store, there are plenty of options on the market today.
Whichever make and model draws your eye, make sure you learn more about financing your new pickup truck. Compare quotes from auto lenders and find a rate that works best for you.