COVID-19 Coronavirus Update: Access to Financial Support for Consumers & Businesses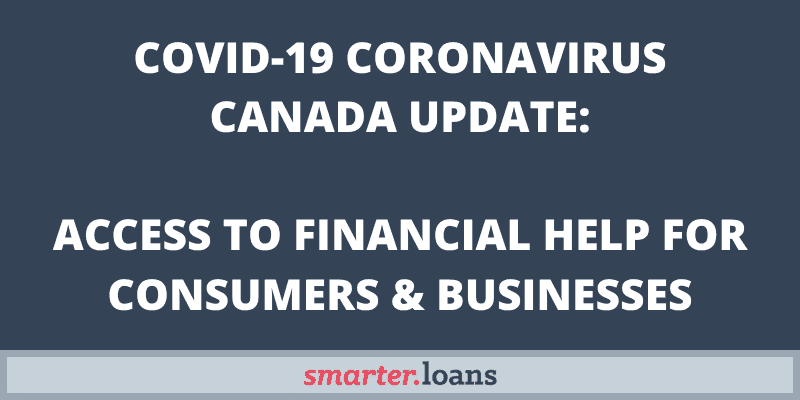 COVID-19 Coronavirus Update to Smarter Loans visitors
Last updated: March 27th, 2020
As we try to deal with the COVID-19 outbreak on a global level and in our country, access to funds is more important than ever, whether its personal savings, a line of credit, a business loan or a government relief measure.
We've been in close contact with our community of lenders to understand how they are adjusting and what it means for Canadian consumers and businesses.
At this time, all lenders you see listed on Smarter Loans are continuing to operate and offer financing to support to Canadians. This includes personal loans as well as commercial loans for small business.
What you can expect from lenders during COVID-19:
They are here to help and support Canadians during this difficult time
Processing times may be slower due to high volume of requests
Approval criteria may be stricter on loans due to uncertainty
For business loans, industries that have been impacted the hardest (food, entertainment, hospitality, retail, tourism) will have a more difficult time getting financing
Click here to see lenders that are currently offering personal loans. 
Click here to see lenders that are currently offering business loans. 
This situation can change at any time, and we will will keep you updated with any new developments.
Small Business Relief Measures for COVID-19 Pandemic:
Canadian government has introduced a number of special business relief measures to help Canadian small and mid-size businesses through this difficult time. This includes:
Employee wage subsidy: he subsidy offers small businesses the equivalent of 10% of their wage costs for three months, up to a maximum for $1,375 per employee and $25,000 per business
Business tax filing extension: businesses to defer income taxes owing between now and September 2020 until after August 31st with no penalties or interest.
Working Capital Loans: Business Development Bank of Canada (BDC) and Export Development Canada (EDC) to

offer

working capital loans of up to $2 million to Canadians small businesses, with flexible terms and payment postponements for up to 6 months. Business loan requests can be made

directly through BDC's website

.
MUST READ: New Small Business Relief Measures Announced: Covid-19 Update (March 27th, 2020)
Other Resources for Small Businesses:
The Canadian Federation of Independent Businesses is making their staff available to assist entrepreneurs, and has created a dedicated COVID-19 Small Business Help Centre. Those requiring further assistance can also email CFIB@CFIB.ca, or call 1-888-234-2232.
At Smarter Loans we are committed to doing whatever we can during these difficult times, to help Canadians get access to financial support when they need it most.
We are working closely with all lenders on the platform, the Canadian Lenders Association and other organizations, and will your updated as new information becomes available.