Shell AIR MILES MasterCard from BMO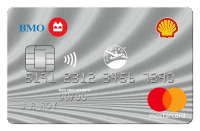 Apply Now
Great reasons to get this card for your everyday purchases
Get 800 AIR MILES Bonus Miles*

1 Mile for every $20 in card purchases everywhere else*

Additional Features Available
Annual Fee: $0
Additional Card:
Purchase Rate: 19.99%
Cash Advance Rate: 22.99%
Card Details
WELCOME BONUS! Get 800 AIR MILES Bonus Miles*

New! Always get 2x the miles at participating AIR MILES Partners. That's 2 Miles for every $20 you spend using your Shell AIR MILES MasterCard from BMO*

Grace Period: 21 days
Minimum Personal Income Required: $15,000
Credit Required: Good
Additional Features
1 Mile for every $20 in card purchases everywhere else*

No Annual Fee*
BMO is not responsible for maintaining the content on this site. Please click on the Apply now link for the most up to date information. 
*Terms and conditions apply