Scotiabank® GM® Visa Infinite Card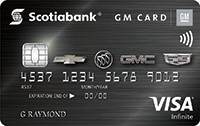 Apply Now
Great reasons to get this card for your everyday purchases
Pay no annual fee for the first year.
Earn 5% in GM Earnings on the first $10,000 spent annually, and 2% thereafter.
$1 in GM Earning = $1 off the purchase price or lease of a new Chevrolet, Buick, GMC, or Cadillac.
Ranked BEST RETAIL REWARDS CARD of 2016.
Enjoy the same great rewards in 5 unique designs
Annual Fee: $79
Additional Card: $39
Purchase Rate: 19.99%
Cash Advance Rate: 22.99%
Card Details
First year annual fee waived*
Get closer to your new car with up to 5% in GM Earnings
Earn 5% in GM Earnings on the first $10,000 spent annually, and 2% thereafter
$1 in GM Earning = $1 off the purchase price or lease of a new Chevrolet, Buick, GMC, or Cadillac
No earning or redemption caps
Rates, fees and other information are effective as of February 1, 2018. Subject to change.
Additional Features
Take advantage of all the ways a Scotiabank® GM® Visa Infinite Card adds to your life
Save on car rentals with discounts of up to 20% at participating AVIS car rental locations worldwide.
Transfer balances from gas and retail cards that charge higher interest rates.
When you link your Scotiabank GM VISA account to your ScotiaCard® debit card you can use TeleScotia® Telephone Banking and Scotia OnLine® Financial Services for Scotiabank VISA account information.
Save time when paying for small, everyday purchases with Visa payWave. Simply wave your card over the card reader and go!