Scotiabank American Express® Card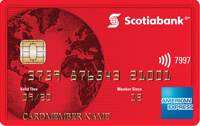 Apply Now
Great reasons to get this card for your everyday purchases
Earn 5,000 Scotia Rewards bonus points with your first $500 in everyday purchases in the first three months.
Earn 1 Scotia Rewards® point for every $1 you spend on everyday purchases.
No Annual Fee.
Access to special offers, merchandise, rewards and more.
Annual Fee: $0
Additional Card: $0
Purchase Rate: 19.99%
Cash Advance Rate: 22.99%
Card Details
Earn 5,000 bonus points with your first $500 in everyday purchases in first 3 months
Earn one Scotia Rewards point on all eligible everyday purchases
Flexible Point Redemption
Rates, fees and other information are effective as of February 1, 2018. Subject to change.
Additional Features
As a Scotiabank American Express Cardholder, you'll enjoy lots of flexibility – and savings.
Book and redeem any flight for any time through Scotia Rewards Travel Service, a full-service travel agency. Plus, take advantage of the Best Price Guarantee on airfare
American Express Invites opens the door to great music, theatre, dining, film, fashion and shopping experiences.
Your Card extends to you extraordinary discounts, offers, special amenities and privileges.
Charge the full cost of your eligible rental car to your Card and you're automatically insured if your rental is damaged or stolen.
Charge at least 75% of your ticket cost to your Card and you're insured against accidental loss of life or dismemberment.
Tap your Scotiabank American Express Card or your smartphone for quick easy payments.