Scotia Momentum® No-Fee Visa Card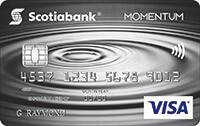 Apply Now
Great reasons to get this card for your everyday purchases
1% Cash back on all eligible gas station, grocery store, drug store purchases and recurring payments.
Plus earn 0.5% cash back on all other eligible purchases.
Special introductory 7.99% interest rate on purchases for the first 6 months.
No Annual fee
Annual Fee: $0
Additional Card: $0
Purchase Rate: 19.99%
Cash Advance Rate: 22.99%
Card Details
7.99% introductory interest rate on purchases for the first 6 months
Cash back on everyday spending with no annual fee
1% cash back on eligible gas station, grocery store and drug store purchases and recurring bill payments
0.5% cash back on all other eligible everyday purchases
Rates, fees and other information are effective as of February 1, 2018. Subject to change.
Additional Features
Take advantage of all the ways a Scotia Momentum® No-Fee Visa card adds to your life
Make the most of your card. Consolidate all your recurring payments on your card and turn them into cash back rewards!
Add an additional Supplementary Cardholder to your Scotia Momentum® No-Fee Visa card Account. One account, multiple cards.
Tap your Scotia Momentum® No-Fee Visa card or your smartphone for quick easy payments.
Planning a road trip? Save on car rentals with discounts of up to 20% at participating AVIS car rental locations worldwide.
Your finances can have added protection from some of life's unpredictable events, like disability, job loss, strike or lockout, critical illness or loss of life.