No-Fee Scotiabank Value® Visa Card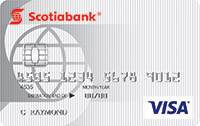 Apply Now
Great reasons to get this card for your everyday purchases
Special 3.99% introductory interest rate on balance transfers for the first 6 months
Save up to hundreds of dollars a year
No annual fee
Annual Fee: $0
Additional Card: $0
Purchase Rate: 16.99%
Cash Advance Rate: 16.99%
Card Details
3.99% introductory interest rate on balance transfers for the first 6 months
A great low rate with no annual fee
Pay down balances faster
Simplify your monthly payments
Rates, fees and other information are effective as of February 1, 2018. Subject to change.
Additional Features
Take advantage of all the benefits of a No-Fee Scotiabank Value Visa Card
Switch balances over from higher interest-rate credit cards to the No-Fee Scotiabank Value Visa Card. By consolidating your higher rate balances, you'll save on interest and make paying bills easier.
Tap your No-Fee Scotiabank Value® Visa Card or your smartphone for quick easy payments.
Save on car rentals with discounts of up to 20% at participating AVIS car rental locations worldwide.