Marriott Bonvoy™ Business American Express® Card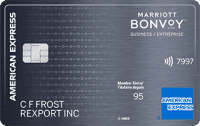 Apply Now
Great reasons to get this card for your everyday purchases
Earn a Welcome Bonus of 50,000 Marriott BonvoyTM points, enough for 3 free nights at a Category 2 hotel
You can earn 3 points for every $1 in Card purchases on eligible gas, dining and travel
You can earn 5 points for every $1 in Card purchases at participating Marriott Bonvoy properties
You can earn 2 points for every $1 on all other purchases charged to the Card.
Receive a 15,000 points bonus from the Marriott Bonvoy program when you transfer 60,000 points to a frequent flyer program
Annual Fee: $150
Additional Card: $50
Purchase Rate: 19.99%
Cash Advance Rate: 21.99%
Card Details
Eligibility Requirements: 
You are a Canadian resident and have a Canadian credit file.
You are the age of majority in the province or territory where you live.
Key Benefits:
WELCOME BONUS OFFER: Earn a Welcome Bonus of 50,000 Marriott BonvoyTM points after you charge $1,500 in purchases to your Card in your first three months of Card membership. Offer subject to change at any time.
ANNUAL FREE NIGHT AWARD: Receive an Annual Free Night Award automatically each year after your anniversary.

UPGRADE YOUR MARRIOTT BONVOY MEMBERSHIP: Enjoy an automatic upgrade to Marriott Bonvoy Gold Elite status when you reach $30,000 in purchases on your Card each year.

BUSINESS ACCELERATED EARN RATE: You can earn 3 points for every $1 in Card purchases on eligible gas, dining and travel.
Rewards
Experience luxury, refinements and inspired destinations in nearly 130 countries around the globe. Or indulge in 'money can't buy' moments or premium merchandise. Whatever you're in the mood for, there's a distinctive reward for you from the Marriott Bonvoy program.
Additional Features
Make the most of a suite of business management tools that give you more control over your business anytime and anywhere.
*American Express is not responsible for maintaining or monitoring the accuracy of information on this website. For full details and current product information click the Apply now link. Conditions apply