BMO® CashBack® World Elite® MasterCard®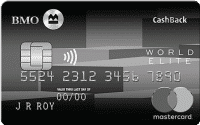 Apply Now
Great reasons to get this card for your everyday purchases
Get 5% cash back in your first 3 months and the $120 annual fee waived in the first year.*

Earn 1.5% CashBack on ALL card purchases* without restrictions*!

BMO CashBack World Elite Travel and Medical Protection*
Additional Features Available
Annual Fee: $120
Additional Card:
Purchase Rate: 19.99%
Cash Advance Rate: 22.99%
Card Details
Welcome Offer: Get 5% cash back in your first 3 months and the $120 annual fee waived in the first year.*

Earn 1.5% CashBack on ALL card purchases* without restrictions*!

Complimentary membership in Mastercard Airport Experiences provided by LoungeKey*.

Complimentary Roadside Assistance Program*

BMO CashBack World Elite Travel and Medical Protection*
Grace Period: 21 days
Minimum Personal Income Required: $80,000 ($150,000 household income)
Credit Required: Excellent
Additional Features
Extended Warranty Plus*

Purchase Protection Plus*

BMO Concierge Service*
BMO is not responsible for maintaining the content on this site. Please click on the Apply now link for the most up to date information. 
*Terms and conditions apply