American Express COBALT™ CARD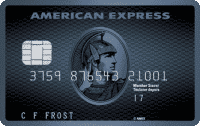 Apply Now
Great reasons to get this card for your everyday purchases
Apply now and you could earn up to 45,000 bonus points with the American Express Cobalt™ Card
Up to 30,000 Bonus Points: In your first year as a new Cobalt Cardmember, you can earn 2,500 Membership Rewards points for each monthly billing period in which you spend $500 in purchases on your Card. This could add up to 30,000 points in a year.
30,000 points is enough for:
$300 in statement credits redeemed towards travel purchases charged to your Card or
$225 in American Express® Prepaid Cards
Earn 5x the points on eligible eats and drinks in Canada, including groceries and food delivery
Earn 2 points for every $1 spent on eligible transit & gas purchases in Canada and eligible travel purchases. That's 2X the points on purchases that get you from point A to B
Earn 1 point for every $1 in Card purchases everywhere else. We won't tell you where to spend, we'll just reward you on your Card purchases
Annual Fee: $120
Additional Card: FREE
Purchase Rate: 19.99%
Cash Advance Rate: 21.99%
Card Details
Earn up to 30,000 Membership Rewards® points

Earn 5X the points on eligible eats & drinks, 2X the points on eligible travel & transit and 1X the points on everything else1

Cobalt Cardmembers receive regular Perks such as bonus reward offers and access to great events

Access Front Of The Line® Presale & Reserved Tickets to some of your favourite concerts and theatre performances and special offers and events curated for Cardmembers with American Express® Experiences.
Rewards
5X the points on eligible eats & drinks

2X the points on eligible travel & transit

1X the points on everything else
Additional Features
*Subject to approval. The preferred rate for purchases is 19.99% and funds advances is 21.99%. If you have Missed Payments, the applicable rates for your account will be 23.99% and/or 26.99%. See the information box included with the application for the definition of Missed Payment and which rates apply to charges on your account and other details.

*American Express is not responsible for maintaining or monitoring the accuracy of information on this website. For full details and current product information click the Apply now link. Conditions apply