American Express® AIR MILES® Reserve Credit Card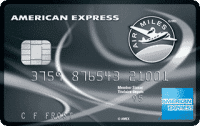 Apply Now
Great reasons to get this card for your everyday purchases
New American Express® AIR MILES®* Reserve Credit Card Cardmembers, earn a Welcome Bonus of 2,400 AIR MILES®* Bonus Miles when you charge a total of $3,000 in purchases to your Card within your first three months of Card membership. That's enough for two select flights.
Earn 1 Mile for every $10 in Card purchases at eligible AIR MILES®* Partners * Excludes purchases made at airmilesshops.ca
Earn 1 Mile for every $10 in Card purchases at other eligible grocery stores, gas stations, and drugstores in Canada
Annual Fee: $299
Additional Card: $50
Purchase Rate: 20.99%
Cash Advance Rate: 22.99%
Card Details
Eligibility Requirements: 
You are a Canadian resident and have a Canadian credit file.
You are the age of majority in the province or territory where you live.
Key Benefits:
WELCOME BONUS OFFER: New American Express® AIR MILES®* Reserve Credit Card Cardmembers, earn a Welcome Bonus of 2,400 AIR MILES®* Bonus Miles when you charge a total of $3,000 in purchases to your Card within your first three months of Card membership. That's enough for two select flights

EXCLUSIVE ANNUAL COMPANION FLIGHT BENEFIT: Once a year, when you redeem for a round-trip economy flight within the AIR MILES®* Reward Program, up to a maximum of 1,700 Miles, you can receive a Companion Flight for your companion to travel with you for the same itinerary (offer excludes service charges if applicable and taxes)

AIR MILES®* FlexFly™, A RESERVE EXCLUSIVE: Through AIR MILES®* FlexFly™ Redemptions, you can access additional airlines and destinations, departure times, and economy, business and first-class seats on flights not available within the AIR MILES Reward Progra

RECEIVE AUTOMATIC ONYXTM STATUS: Your ticket to the World of Onyx™Receive automatic Onyx status™ 
Rewards
Travel Benefits
Your travel experience may never be the same. The American Express® AIR MILES® Reserve Credit Card is the only AIR MILES® Credit Card that provides these exclusive benefits: AIR MILES®FlexFly Redemptions, the Companion Flight Benefit2, the choice to redeem AIR MILES®* Reward Miles for flight taxes and fees, and waived AIR MILES®*flight administration fee.
Priority Pass™* – Worldwide Airport Lounge Access
Additional Features
Emergency Card Replacement

Fraud Protection Guarantee

Manage your account online
*American Express is not responsible for maintaining or monitoring the accuracy of information on this website. For full details and current product information click the Apply now link. Conditions apply